GDP growth in France was 1% in Q3 versus 1.1% in the first quarter and 1.4% in the second (annual rate). The carry over for 2019 at then end of the third quarter is 1.2%. If growth is again at 1.2% in the last quarter then GDP will have grown by 1.3% on average over the year after 1.7% last year. The chart shows a rapid rise in activity since the beginning of the recovery in 2013 with a trend at 1.45%. We also note the particular character of the year 2017 during which the expansion had an exceptional character (2.4%). Since the last quarter of 2017, the annualized average growth is only 1.25%. It is this figure that is probably closest to the capacity of the French economy.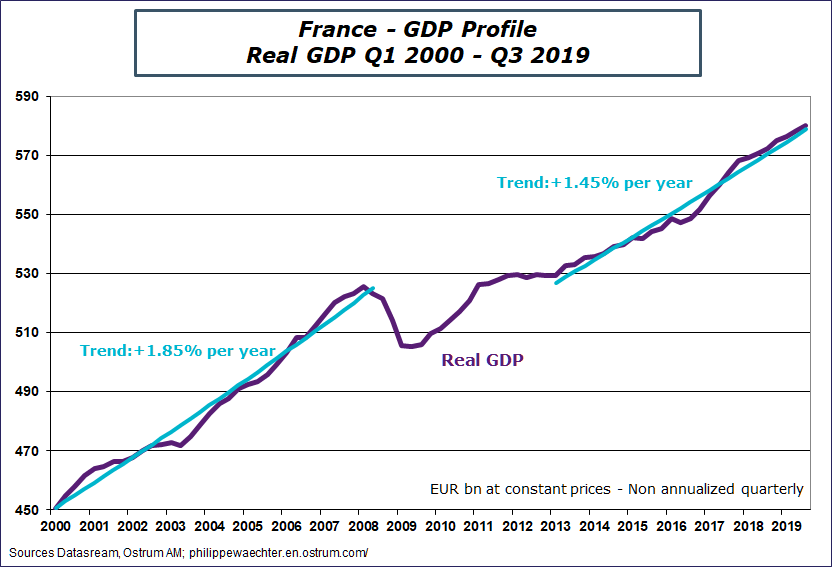 Domestic demand is at the heart of this expansion, while foreign trade contributes negatively. A sharp rise in imports was observed while exports continue to grow. The rise in imports comes after a negative figure in Q2. There is a catch-up effect.
The rise in consumption has been stable on average since the beginning of the year at around 1.2%. It was at 1.3% for Q3 to compare with 1.5% in Q1 and 0.9% in Q2. Investment rose 3.8% after 2.1% in Q1 and 5.1% in Q2. These two components are at the heart of French growth. Note the continued growth of business investment despite a mediocre international environment. This may result from the temporary improvement of margins (double CICE effect and lower expenses in 2019) and a proactive economic policy in 2020 to support domestic demand. It is most encouraging. The slowdown in housing investment is worrisome but in line with what is happening in the private real estate market. The market is less dynamic with housing starts declining.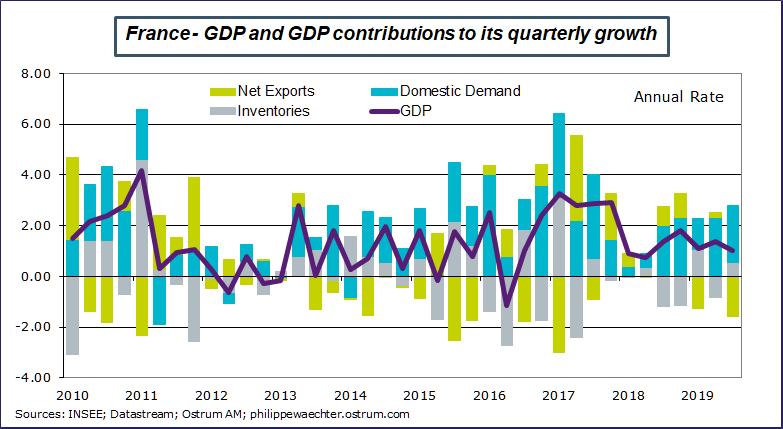 This internal dynamic reflects the economic policy that supports domestic demand to limit risk on growth. The increase in purchasing power resulting from the various bonus and the drop in the housing tax and the increase in employment, that will be seen again in the third quarter (November 8), are as much support for this internal demand. This promotes business investment.
The dynamics of the economy is not excessive. There is no strong upside on growth however the risk of rupture is limited. This is essential in a risky international context.