The Markit survey for France does not suggest in December an inflection that can be linked to the social movement. The economy's capacity to adapt is stronger than we imagine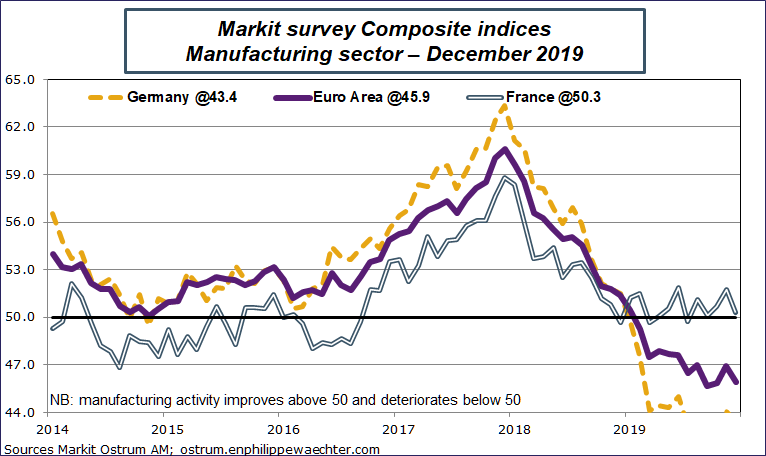 The French economy remains stable despite the strike that has affected it since December 5. The advanced publication of the Markit survey, for the private sector in France, suggests a shift in the manufacturing sector but it was November data that was too strong. The level in December is not different from what was recently observed (the final version will be published on January 2 for the manufacturing sector and on January 6 for services).
Since the beginning of 2019, the French manufacturing index has been above the threshold of 50, thus indicating a robust evolution of activity in the sector while the European index contracts rapidly even in December. The situation is similar in Germany.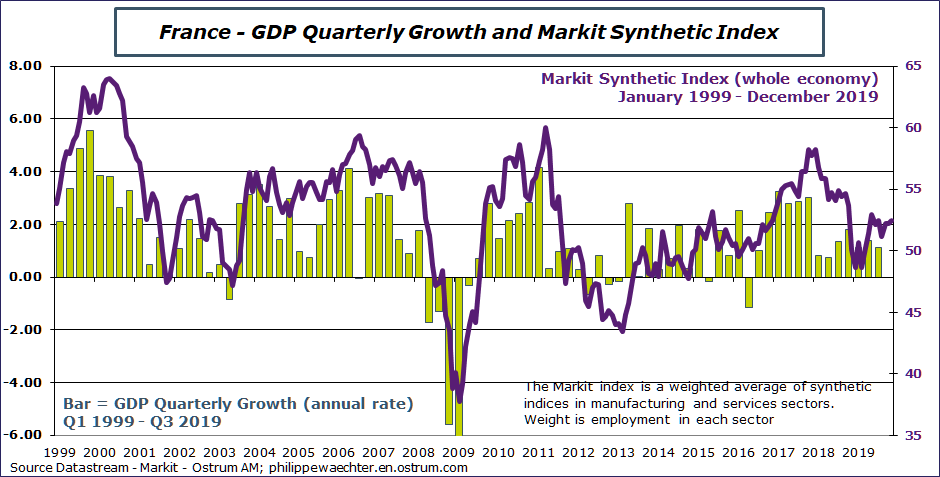 If we take the synthetic index grouping together the manufacturing and services sectors, we don't see any weakness in December. There is even a marginal improvement due to the rise in the services index where current activity remains high and expectations robust.
The signals, even in detail, do not suggest a rapid inflection in the French economy. The new order index does not deviate from the profile observed in recent months and employment continues to increase in line with the employment actually observed.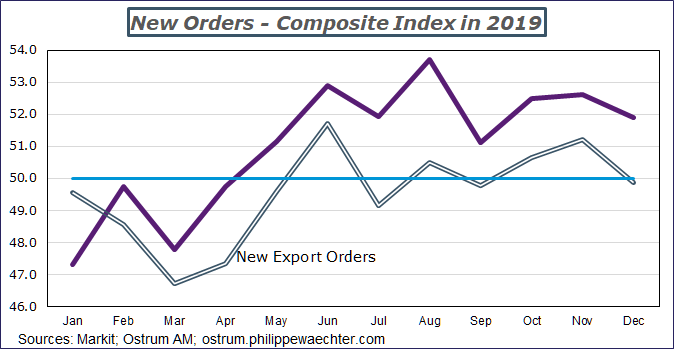 Reading macroeconomic indicators does not suggest for the moment a marked slowdown in activity either on the business side or on the demand side.
For the former, the employment index suggests that business leaders have integrated a temporary shock, the impact of which would not permanently deflect the French economy (the employment index for the whole of economy stood at 52.8 in December compared to the average of 52.1 observed for all of 2019).
On the demand side, orders received by companies do not give a negative signal compared to the last months. It reflects a strong domestic demand as its momentum is not conditioned by foreign demand, as the graph shows.
It may be too early to conclude. The INSEE business climate survey, which will be released next Thursday, will be very instructive. In the meantime, the observation made through this survey suggests a capacity for adaptation of the French economy far superior to what we want to imagine. The mobilization of each, the flexible social system and a more flexible productive system (working from home) may have brought new solutions to this social crisis. Everyone is dragging their feet but continues to fulfill their contract in the hope that it will not last too long.