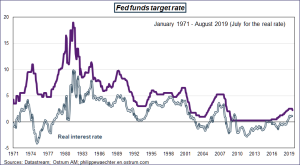 The Fed's meeting (18) will be the important event of the week. We expect a 25bp drop in the Fed's main rate and nothing on the balance sheet policy.
The important point will be Powell's explanation of this move at his press conference. In July, the main explanations of the 25 bp drop were external factors (trade, global growth). Will these elements remain the principal explanation ? What will be the new growth forecasts consistent with this new monetary policy stance ?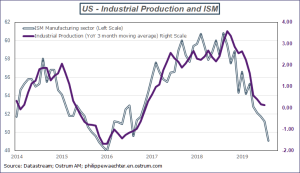 The US industrial momentum (17) will be an important data as the ISM synthetic index for August dropped below the 50 threshold at 49.1. The consistency between the two indicators suggests that the industrial production index YoY change could go in negative territory. Will the industrial index follow this dynamics in August?
The Empire state (16) and the PhilyFed (19) will give information on the economic situation in September .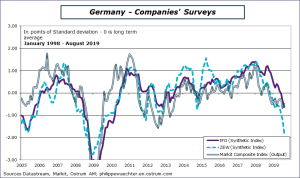 The ZEW (17) in Germany for September will be key to anticipate the possibility of a German recession and therefore the possibility for a more proactive fiscal policy. Draghi, in his press conference last Thursday, said that a eurozone fiscal policy would be complementary to the ECB monetary policy to boost growth and inflation.
Chinese number (16) will show how the economic policy efficiency of an arbitrage between an external negative shock and the necessity to feed the domestic demand to stabilize the economic activity. Industrial production was weak in July while retail sales were stronger than a few months ago.
Retail sales in the UK (19) in the midst of a political mayhem. What has been consumers' behavior ? Have they increased their stocks to prevent the impact of a no deal Brexit ?
US housing market with Housing starts (18) and Existing home sales (19)? The market is quite stable.
In Brazil, the Selic will not be pushed down at the next monetary policy meeting (18) as the Brazilian central bank has had strong intervention on the forex market to limit the depreciation of the real.
The detailed document is here