Highlights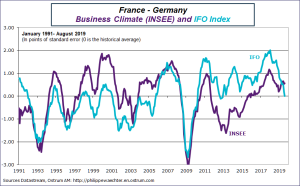 Corporate surveys will highlight the business cycle foreseeable future. The IFO will be released on Tuesday 24 as will be the French Climat des Affaires. The French momentum is currently higher than in Germany as this latter is more exposed to the international backdrop. The Italian survey on corporate confidence will be out on September the 27th and may show the impact of a pro-European government on corporate confidence.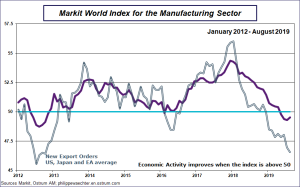 Markit surveys, flash estimates, will be released on Monday the 23rd for the Euro Area, France, Germany and the US. The Japanese release will be done on September the 24th. These surveys are important but I will carefully look at the New Export Order indices in the Euro Area, US and Japan. Its average is clearly consistent with the world trade profile. In August it was as low as 46.6 giving a signal of continuous contraction in trade. September date will be important.
Consumer confidence in the US (24 for the conference board and 27 for the Michigan), in France (25), Germany(26) and Italy (27). The US conference board will give us relevant signals on the US labor market dynamics. France index will remain above its average, way above the level it has a year ago when the yellow vests demonstrations started.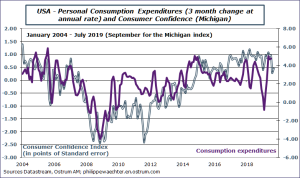 Consumption expenditures in the US (27) and Fed's preferred measure for inflation for August will be released on August the 27th. Consumers' behavior is the strongest support of the current US growth momentum. Nevertheless it can be very volatile. We expect that it will be strong in August, consistently with retail sales. No strong expectations on inflation. The July core inflation rate is 1.6%.
Inflation for September in France and Spain.
New Home sales in August in the US. The real estate market has been stronger recently. A confirmation is expected as interest rates were low in August.
The document is available here