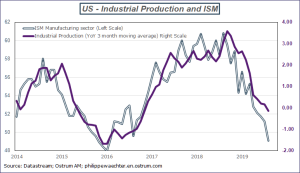 The most important data of the week will be the US ISM survey for the manufacturing sector (October 1). It was at 49.1 in August down below the 50 threshold for the first time since 2016 (January). This is an important data as it may affect investors ' expectations on the downside if it remains below 50. The ISM profile is consistent with the YoY change of the industrial production index. The current consensus for September is above 50. This suggests that it follows the Markit index profile for the manufacturing sector which has rebounded in September (flash estimate).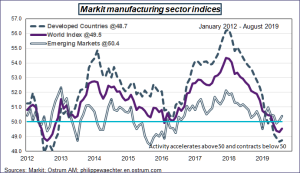 The Markit indices for the manufacturing sector will also be important but we already know (flash estimates) that Japan was weaker in September as was the euro area index with a very weak number in Germany This latter would be consistent with a strong negative number for the GDP growth in Q3 in Germany.
The world index was up in August (but remaining in negative territory at 49.5.
Chinese indices will be out on Monday 30 September.
The services indices for the Markit and ISM surveys will be released on October the 3rd.
On October the 1st, the Tankan survey will be released in Japan.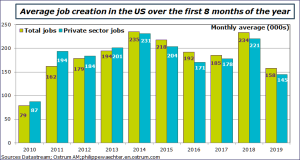 The US employment for September will be released on Friday 4. The number was weak in August and we do not expect a strong rebound as households' perception of the labor market was weaker in September (through the conference board consumer confidence survey). One remarks, the private sector momentum is the lowest since 2010. It's probably the consequence of the 2018 surge but it can also reflect weaker expectations on companies' side.
In August, the number of public jobs was particularly high due to the 2020 Census. This may still be the case in September.
Spanish growth second estimate for Q2 will be released on September 30 (the first was at 0.5% non annualized). The Bank of Spain has revised down its growth profile for 2019, 2020 and 2021. It now expects 2% in 2019, 1.7% in 2020 and 1.6% in 2021.
The Euro Area inflation rate for September (October 1). It may be close to 1% for both the headline and the core. The convergence to 2% is not there yet.
Inflation rates in Spain, in Germany and in Italy are also expected (September 30)
Unemployment rate for August in the Euro area (September 30), German retail sales for August (September 30). Industrial production index for Japan for August (September 30). Retail sales in the Euro Area (October 3)
On a more political ground, the 70th anniversary of the People's Republic of China (October 1st) will be a ceremonial event on the Tienanmen square in Beijing. Xi Jinping will give an address to the nation.