Durable goods orders,
Chicago Fed Index on Economic Activity,
Retail Sales in Japan
Highlights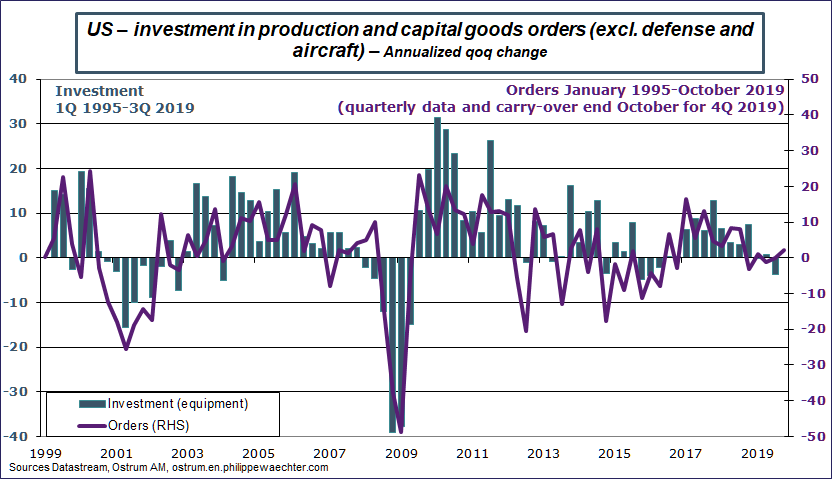 —Durable goods orders in the US for November (Dec. 23)
The main source of weakness for the US business cycle is capital expenditures. It has been weak in recent months even after the White House decision to lower companies' tax rate. The non defence capital goods orders ex aircraft will highlight the investment profile we can expect for the last quarter of 2019. —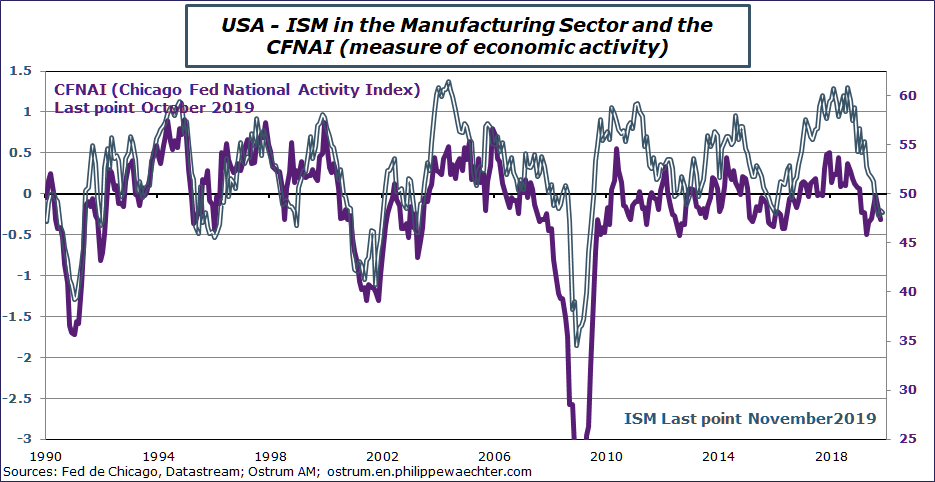 The Chicago Fed National Activity Index (CFNAI) for November (Dec.23)
The US short term economic outlook is weaker since the beginning of this fall. This can be seen with the drop in the industrial production index (-1.1% for the last three months when compared to the same three months a year ago), the continuous weakness in the ISM index for the manufacturing index or the not so strong retail sales. This will reflects in the CFNAI for November. The October level was weak as will probably be November figure too. —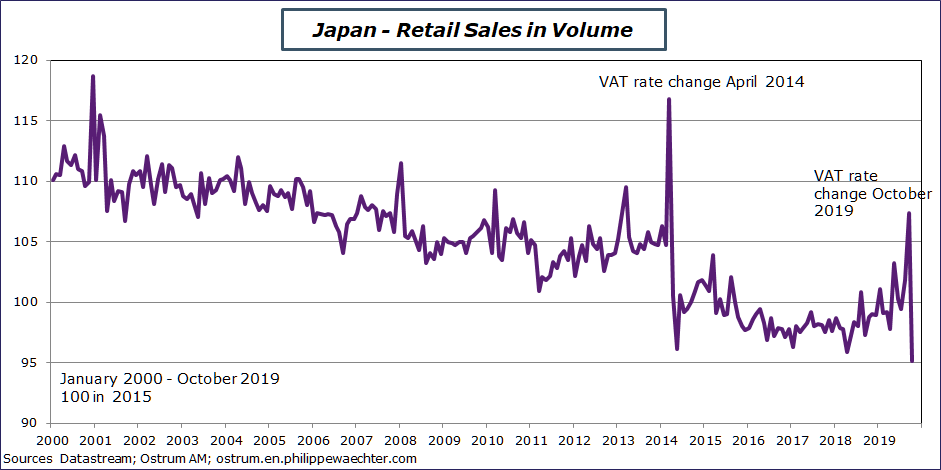 Japan retail sales for November (Dec.27)
With the October VAT rate hike, retail sale dropped dramatically after a huge surge in September. The question for coming months is to know If the retail sales future profile will follow the one seen in 2014. It was then a source for a weaker outlook for the following three years. —
Japanese unemployment rate for November (Dec 27)
The dynamics has changed on the Japanese labor market. The unemployment cannot go lower at 2.4%. Since the beginning of 2018 it oscillates around 2.3%. The Japanese economy is at full employment.
In discussions on the Japanification of the Euro zone we have to keep in mind that the Japanese economy is doing well. Its unemployment rate is at historical low. It's also the case in the Euro Area but with a rate at 7.5%. The fact that population is ageing rapidly is a source of explanation for the Japanese performance but the population is ageing very rapidly also in Italy, Spain and Germany but except in Germany the unemployment rate remains high and not comparable to the Japanese one. —
Happy Christmas on December the 25th
This report is available to download