Highlights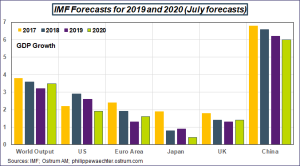 Next Tuesday, the IMF will release its new forecasts. Comments are bearish, the global economic outlook will weaker than last spring or last July forecasts. In July, the world output growth was expected to be 3.2 % in 2019 and 3.5% in 2020. For the US, numbers were 2,6 and 1.9, for the Euro Area 1.3 and 1.6% and for China 6.2 and 6%.
The other political event will be the European Summit on Brexit. It will take place on October 17 and 18. Two questions: will there be a new agreement between the UK and the European Union and will this agreement, if it exists, be voted by the Parliament in London ? If it is not the case, BoJo will have to ask for a delay. The Parliament want to postpone the Brexit until January the 30th, 2020.

The most important element this week on monetary policy will be the Fed's Beige Book. Fed's members are considering a new drop of the US central bank's interest rate in December (according to the dots' graph). It will depend on the economic outlook. The Beige Book will give information on this point for a foreseeable future. We will look specifically at elements associated with the international trade.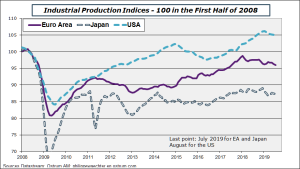 Industrial production indices for September in the US (17) and in China (18). August figures were lower in August and negative in the US. We can't expect a reversal. In the Euro Area the industrial production index for August will be released (14). Could be quite strong after German, Italian and Spanish numbers.
The inflation rate will be confirmed at 0.9% in the Euro area for September (16). The major question on inflation will be for China as pig price has recently pushed up the inflation rate. It will be released on October 15.
Chinese foreign trade for the month of September (14). The dynamics of exports is still the key point of this statistic in order to perceive the impact of US tariff measures.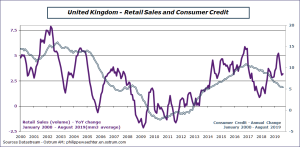 Retail sales in the US (16), China (18) and the UK (17). These numbers have been rather strong in recent months notably in the US. We expect robust data in the US but weaker in the UK according to the BRC survey. In China the mild rebound seen recently should hold in September.
Real estate data will be released in the US notably the Housing Starts figure. The data was stronger than expected in August. Will it last confirming the reversal of the real estate market?
The detailed document is available here for download