Highlights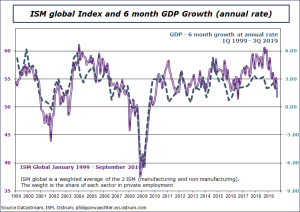 The ISM global index (5) will be the major data this week. It is consistent with the GDP growth momentum and was particularly weak in September compared to what was seen last summer. A weak number may trigger a change in what the Fed could do in a foreseeable future.
The Services Markit indices will be released on November 5. But the Euro Area data on manufacturing (4) and on services (6) will be released a little later this month as November 1 is off in most continental Europe countries.
The world markit index for the manufacturng sector will be available on Monday
The Monetary policy Committee of the Bank of England will meet on November 7. Nothing is expected on its monetary policy stance but extension of the Brexit may imply comments on the impact for the UK economy.
In the US, we look systematically at details on the labor market. The global employment index of the ISM survey and the JOLTS survey will bring these information. The ISM global index on the labor market was below the 50 threshold in September and maybe a source of concern in case a continuous weakness.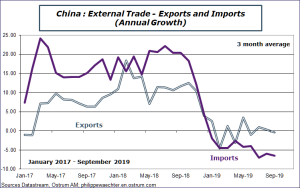 The Chinese external trade (8) will provide new information on the impact of the trade war on the Chinese economy.
In Germany, there is a string of data with the industrial orders (6) the industrial production index (7) and the trade balance (8). All of them will highlight the impact of the negative environment on the German short term momentum. Will they increase the risk of a long recession ?
Japanese households' expenditures in September at the eve of a VAT rate hike (October). In March 2014 they spend a lot just before the higher VAT rate in April 2014. Have we had the same behavior ?
General elections in Spain (10) – The probability of a strong majority is low.
The detailed document is available for download here