Highlights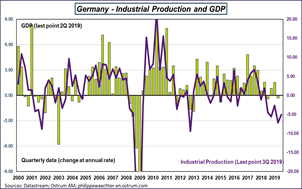 GDP growth for the third quarter in Germany (Nov.14) and the ZEW survey for November (Nov.12)
The industrial contraction during the third quarter and the fragility seen on the services sector during the third quarter will probably lead to a negative growth rate in the third quarter. Will this technical recession be sufficient to force a more accommodative fiscal policy ?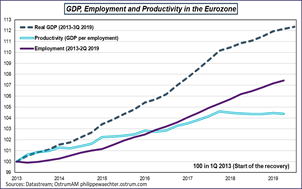 The Eurozone GDP and Employment for the third quarter (Nov.14) and industrial production for September (Nov.15)
The flash estimate for the GDP was at 0.2%, it will be confirmed. The question is on the employment dynamics. Since the beginning of 2018, its quarterly growth has been close to the GDP growth leading to a flat trend in productivity. This is not a positive news.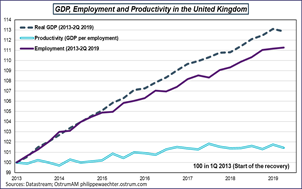 The UK GDP for the third quarter (Nov.11) and Employment for August (Nov.12)
The main concern for the UK is its low productivity growth. Since the beginning of the current recovery, it has grown by only 1%. The change may come in coming months with a downside adjustment on the labor market.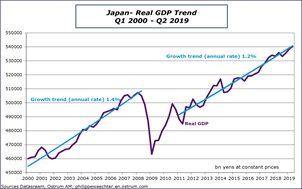 GDP growth for the third quarter in Japan (Nov.14)
The figure will take into account the jump in households' retail sales in September. Their expenditures were increasing to compensate the increase in the VAT rate in October. This is the same phenomena that the one seen in April 2014 with the last TVA rate change.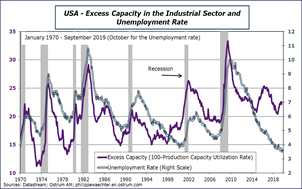 Industrial production index in the US for October (Nov. 15) NY Fed manufacturing survey for November (Nov.15)
The industrial momentum is low in the US as it can be seen with the ISM manufacturing index below the 50 threshold for the last 3 months to October. This will probably push the industrial production index on the downside.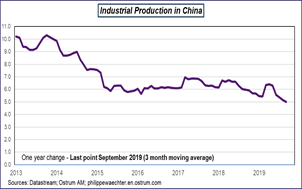 Chinese industrial production, retail sales and investment for October (Nov.14)
The momentum is lower in China. It reflects negative external shocks (exports growth is close to zero in recent months) and of an strong internal adjustment (negative growth for imports).
Retail sales in the US (Nov.15) and in the UK (Nov.14)
The US sales will continue to be robust as the labor market is still supportive and households are optimistic
In the UK, the perception is weaker as the labor market dynamics has turned negative recently.
Inflation in the UK and in the US for October
Will be lower than in September as the energy contribution will be more negative in October.
Inflation rates in the Euro Area (15), France (14), Germany(13), Italy(15) and Spain (14)
Confirmation of the flash estimates released at the beginning of the month. The Euro Area inflation rate in October was first estimated at 0.7%.
The detailed document is available for download here